Earlier this summer we went looking for book recommendations from our Facebook fans (you do follow us on Facebook, right?!). We asked everyone what was on their summer reading list around the topics of plastics, zero waste, the environment, etc. Below is a collection of their responses and a glimpse at the stack of books by our bedside. What other books might you recommend?
Braiding Sweetgrass: Indigenous Wisdom, Scientific Knowledge and the Teachings of Plants

by 
From our Facebook fan: "I am a huge fan of Robin Wall Kimmerer's book, Braiding Sweetgrass. She's an indigenous woman and a classically trained botanist. I love the way she talks about and connects to the world around her. Nothing to do with microplastics, but definitely some discussion on restoring ecosystems that have been damaged by humans such as Lake Onondaga in upstate NY."
Braiding Sweetgrass is an inspired weaving of indigenous knowledge, plant science, and personal narrative from a distinguished professor of science and a Native American. Robin Wall Kimmerer has learned to ask questions of nature using the tools of science. She brings us a beautiful book full of the science of nature enriched by the ancient knowledge of indigenous people.
The Humane Gardener: Nurturing a Backyard Habitat for Wildlife by Nancy Lawson
A practical guide, beautifully written for the gardener who wants to create a backyard garden that is welcoming to wildlife. Through inspired advice, profiles of home gardeners, and interviews with scientists and horticulturalists, journalist and gardener Nancy Lawson applies the broader lessons of ecology to our own outdoor spaces. The Humane Gardener is full of simple principles for both attracting and cohabitating with wildlife. This book will have you wanting to take a fresh look at all you do in your own yard.
The Death and Life of the Great Lakes by Dan Egan
Did you know that the Great Lakes—Erie, Huron, Michigan, Ontario, and Superior—hold 20 percent of the world's supply of surface freshwater? And that they also provide sustenance, work, and recreation for tens of millions of Americans? The Death and Life of the Great Lakes is a gripping narrative by reporter Dan Egan about the ecological catastrophe happening in the Great Lakes from invasive species. Through this important work of science journalism, Egan describes the ecological impacts of human intervention. In the end, it provides us with a small glimmer of hope that given a chance the lakes could settle into a new ecological balance.
Less Stuff by Lindsay Miles
If you find it difficult to declutter and don't want to see things go to waste, this is the book for you. Lindsay Miles of Treading My Own Path shares a step by step approach to learn how to let go of your things without sending them to landfill.  This book is full of practical advice on how to let go of guilt, and how to move forward with less stuff.
Kiss the Ground: How the Food You Eat Can Reverse Climate Change, Heal Your Body & Ultimately Save Our World

by 

Josh Tickell

 and 

John Mackey
What if you could reverse climate change and save the world, just by the choices you make in what and how you eat? In Kiss the Ground, author and documentary filmmaker Josh Tickell explains that "by changing our diets to a soil-nourishing, regenerative agriculture diet, we can reverse global warming, harvest healthy, abundant food, and eliminate the poisonous substances that are harming our children, pets, bodies, and ultimately our planet." This book will show you how to eat in a way that is nourishing and regenerative for the soil and your body.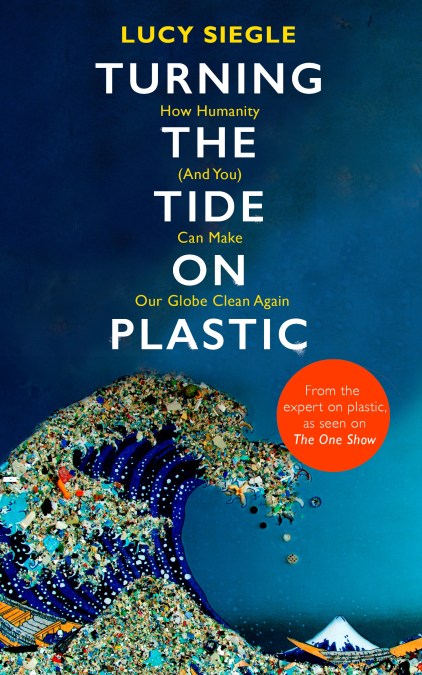 Turning the Tide on Plastic by Lucy Siegle
From journalist, broadcaster and eco-lifestyle expert Lucy Siegle comes a powerful call to action to end the plastic crisis. This is an accessible guide with the tools needed to make a decisive change. We are habitual users of single-use plastics. If only 12 of us adopt Lucy's 'reduce, rethink, refill, refuse' approach, we could potentially ditch 3K-15K single items of plastic in a year! It's time to turn the tide on plastic, and this book will show you how.
This Changes Everything: Capitalism vs The Climate by Naomi Klein
Our economic model is at war with life on earth. This Changes Everything, by journalist and author Naomi Klein, exposes the myths around the climate debate. Through extensive research, she highlights the real solutions needed to change our broken economy. They include reining in corporate power, rebuilding local economies, and reclaiming our democracies. Bold changes to the global economy must be made if cataclysmic climate change is to be avoided. Climate change is our wake up call to change the world.
101 Ways to Go Zero Waste by Kathryn Kellog
A practical guide to reducing household waste. In 101 Ways to Go Zero Waste, Kathryn Kellogg, of Going Zero Waste and fan of Plaine Products shares tips and advice to reducing your waste and living more sustainably. This book is extremely accessible with simple approaches to reducing our environmental footprints.  "It's not about perfection," she says. "It's about making better choices." Plus, we get a shoutout in the book, so of course we wanted to include it here!